STELLA MCCARTNEY'S A-Z MANIFESTO: AN INTERSECTION OF FASHION, ART AND SUSTAINABILITY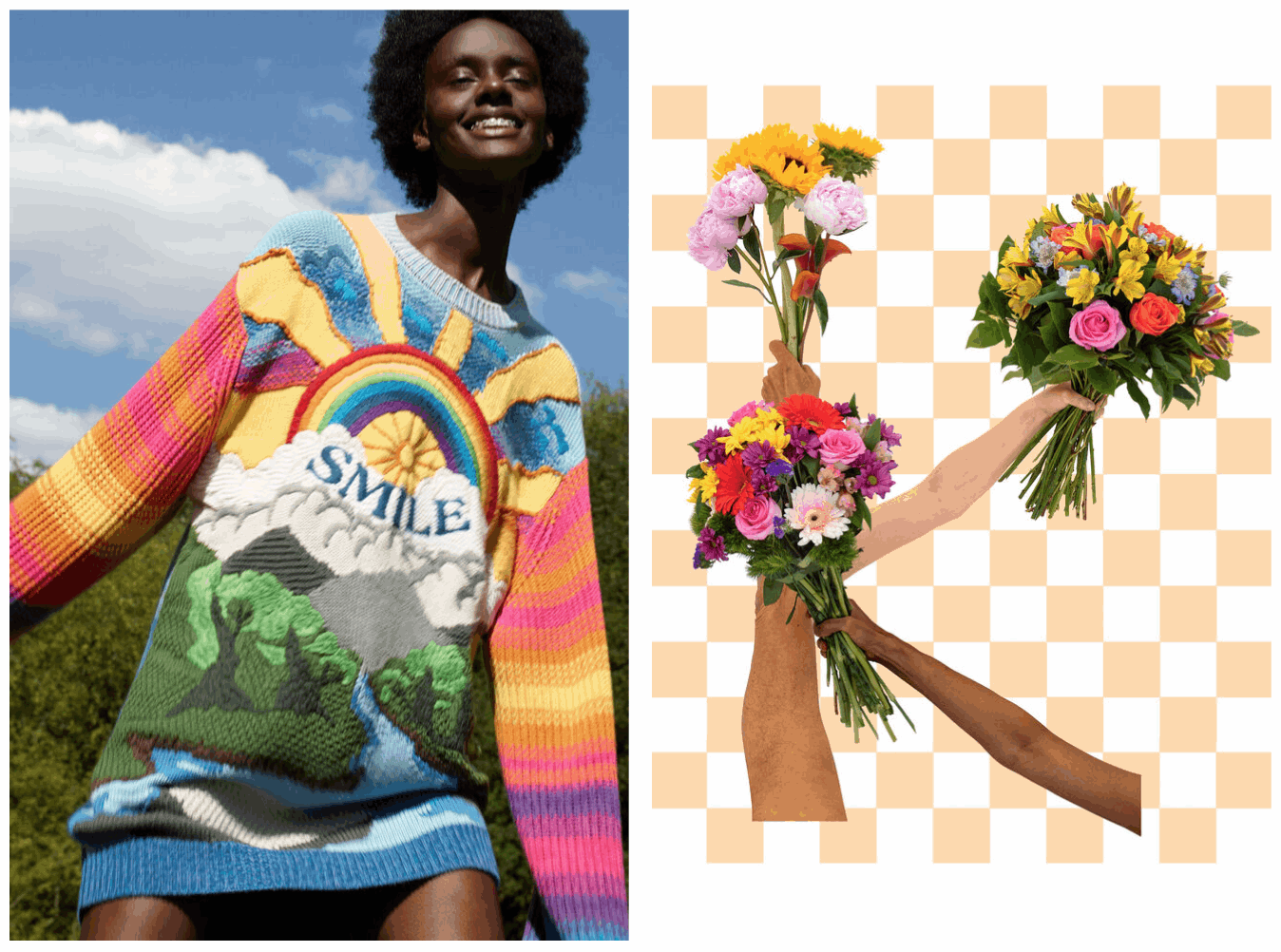 K is for Kindness. 2021. Stella McCartney x Jeff Koons. Stella McCartney SS21 Collection. [Look K, 2021. Stella McCartney; Kindness, 2020. Jeff Koons].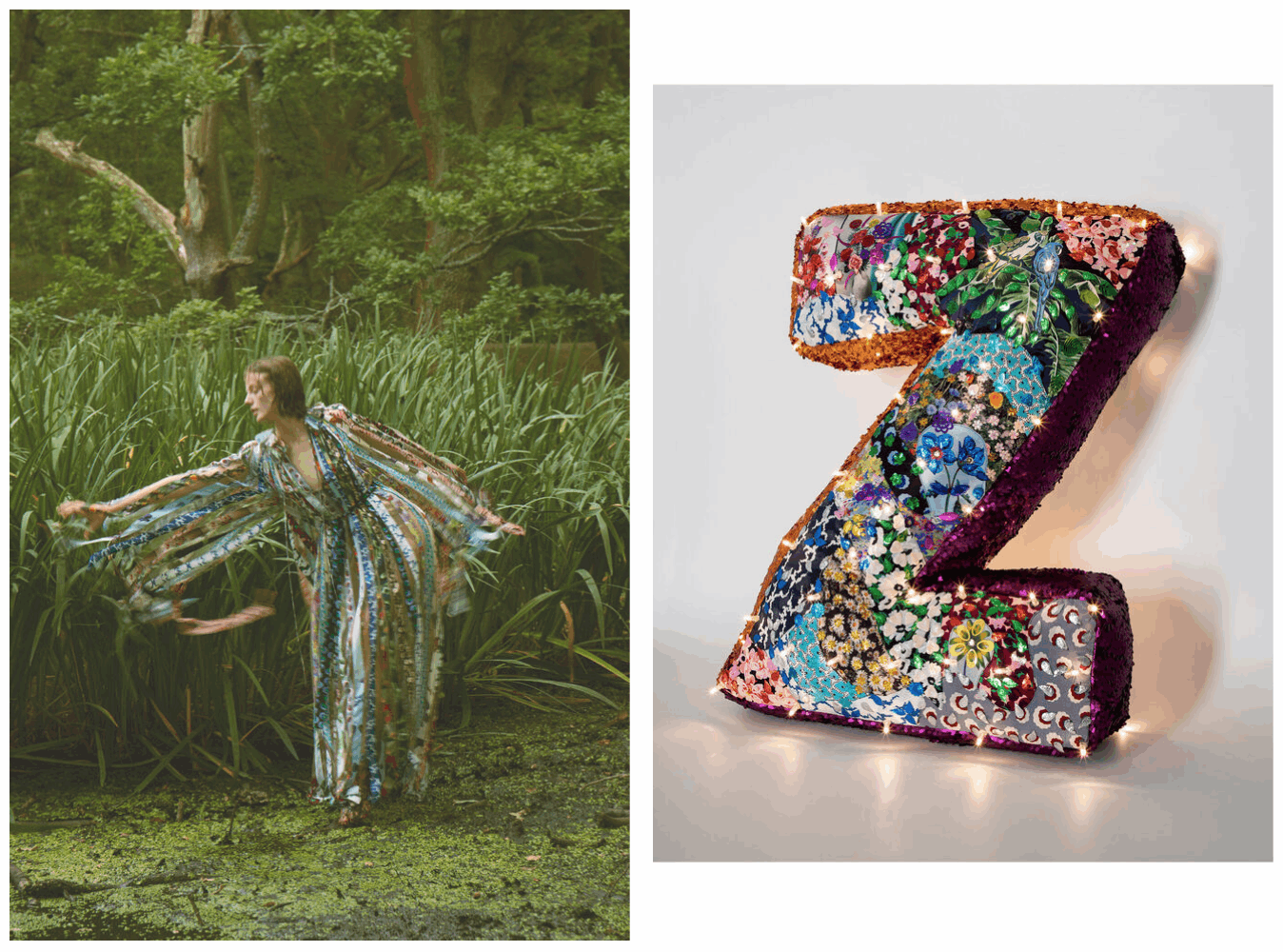 Z is for Zero Waste. 2021. Stella McCartney x Joana Vasconcelos. Stella McCartney SS21 Collection. [Look Z. 2021. Stella McCartney; Zen. 2020. Joana Vasconcelos].
O is for Organic. 2021. Stella McCartney x Olafur Eliasson. Stella McCartney SS21 Collection. [Look O. 2021. Stella McCartney; Imaginary morning eclipse. 2020. Olafur Eliasson].
Stella McCartney's A-Z Manifesto: An intersection of fashion, art and sustainability
By Louise Oliphant, Contemporary Art BA (Hons), International Journalism MA
The inter-relatability between art and fashion has always been a given. From expressive prints, articulated design and distinct association to style or flair of the creator, art-meets-fashion in more ways than one. As such, art and fashion are two spheres of inherent ongoing innovation and creative expression. Labeca knows this all too well. Where fashion designs are repeatedly inspired by art and artists, imbuing work with artistic freedom and individual niche, these entangled cultural spheres cultivate a sensational relationship. Or a collaboration, as one would conventionally speak, defined by a pendulum-like motion of ideas wavering between designer and artist. Fashion and art; malleable by each other's definitive contrasts, yet interchangeable and cohesive along parallel lines. Fashion (if you hadn't noticed) is art and art (by way of its infinitive nature) can be fashion.
This intertwining of mediums has long been explored. From Salvador Dali and Elsa Schiaparelli's Lobster Telephone as one of the first collaborations to Yves Saint Laurent reproducing modernist paintings of Mondrain and Mattise into couture pieces and Coco Chanel partnering with Pablo Picasso on costumes for the Ballet Russes. Although, whilst these artful alliances span from the early 1930's to late 1980's, in 2020-2021, the art and fashion nexus is revived under a new concentration. In reaching out to the art world to inform AW20 and SS21 collections, current designers have been producing limited-edition wearable works of art invested in a 'sustainable fashion future'.
Most dutifully, this collision of artistic flair performs not just as a creative outlet, but as a vehicle for change and Stella McCartney's recently released SS21 collection couldn't have done this better. As a long-term pioneer of sustainability and all-time warrantor of ethical values, Stella McCartney cemented her commitment to environmentalism in her lockdown designed pieces. Though, where McCartney has forever maintained a personal brand obligation to sustainable fashion, the subject has eminently amplified throughout the whole fashion industry. The year 2020, embodied by world health concerns and national restrictions has sure been one of reflection and realignment for many. This is witnessed chiefly through Stella's A-Z manifesto.
She states "During our global moment of pause, I found myself asking bigger questions about what I do and why I do it. How can we all come back to the world more mindful, more conscious? One sleepless night, I put my thoughts on what really matters into words. As I shared it with my team, it became a manifesto of sorts".
Described as 'a blueprint of our future…a roadmap of our DNA', the A to Z manifesto is a visual homage of global artists' vision and values of the future. Illustrated through an alphabetised series, each letter symbolises an objective: A for example, is for Accountability, B is for British, C for Conscious and so on. Where some, like Conde Nasts' Sustainable Fashion Glossary, term each 'letter' a concept, the acrostic-like composition of the series reads more like a visual poem. The words are not simply defined but rather require a viewer, customer or audience to 'read between the lines' - or words and images in this case.
The emblematic images composed of corresponding letters were produced by twenty-six international artists commissioned by McCartney: quite extraordinarily antithetical to the typical duotype pairing of a designer-artist collaboration. From Jeff Koons, Cindy Sherman and even the designer's mother Linda McCartney, the artists' alphabetical artworks correspond or perhaps inform an item of McCartney's new collection. Take 'K is for Kindness' for example, where the artwork Kindness by Jeff Koons positions the giving of flowers into the letter 'K', on a peach checked background. From Koon's view, though a universal one, 'Kindness means to be there for someone, and to offer your ongoing support'. He uses the symbol of offering, through the gesture of flower giving, prescribing this as a 'symbol tied to both nature and society, showing that kindness is a vehicle for survival'. Seems suitably timely given our current context. Still, this informs 'Look K'. Stella McCartney's brand endeavours to be 'kind to the plant' and 'those who inhabit it' are transpired into a hippie Kind intarsia jumper. Tones of summertime pastels are transferred from Koons to McCartney, connecting floral prints, prismatic knit fabric and a sunny disposition. Similarly, the very last in the series 'Z is for Zero waste' connects an LED'd patchwork cushion, outlined with sequins in the shape of the letter 'Z' with a 'one-off dress' constructed from strips of patterned fabric taken from nine previous Stella McCartney ready-to-wear collections. Here, McCartney and artist Joana Vasconcelos aspire to eliminate the concept of waste and push a stability between 'what we consume and what we return to the planet'.
Where a representational shared value is placed on this collection rather than a direct fusion of artistic design and style, McCartney thoughtfully utilises text and language as a communicative tool, to make a statement. Text and art, another fruitful entanglement. Though, when combined with the business pillars of fashion, this collision of artistic genre seems more forward-thinking and openly political than any before.
Sources:

https://www.stellamccartney.com/us/en/stellas-world/mccartney-a-to-z-manifesto-spring-2021-collection.html
https://luxurylondon.co.uk/style/hers/the-best-fashion-art-collaborations-2020
https://www.theguardian.com/fashion/2020/oct/08/stella-mccartney-launches-a-z-sustainability-manifesto
http://ethicalfashionbrazil.com/stella-mccartney-values-in-a-to-z-manifesto/
https://www.vogue.co.uk/fashion/article/stella-mccartney-ss21-interview